construction mateirals cuplock parts scaffolding system from adtogroup
construction mateirals cuplock parts scaffolding system from adtogroup
| | |
| --- | --- |
| Packaging: | Normal package fit transport |
| Brand: | ADTO |
| Place of Origin: | Tianjin, China (Mainland) |
Product Description
2016 hot sale construction material system cuplock
Scaffolding
load capacity   Product Description   Cuplock Standard(Vertical)
Name
Length
Weight (Kg)
Self Finish
Painted
Hot Dip Galv.
Standard(Vertical)
L=0.50Mt
2.42
2.50
2.57
Standard(Vertical)
L=1.00Mt
4.84
4.98
5.13
Standard(Vertical)
L=1.30Mt
6.54
6.74
6.93
Standard(Vertical)
L=1.50Mt
7.25
7.47
7.69
Standard(Vertical)
L=1.80Mt
8.96
9.22
9.49
Standard(Vertical)
L=2.00Mt
9.67
9.96
10.25
Standard(Vertical)
L=2.30Mt
11.37
11.71
12.05
Standard(Vertical)
L=2.50Mt
12.08
12.44
12.81
Standard(Vertical)
L=3.00Mt
14.50
14.93
15.37
  Cuplock Ledger (Horizontal)
Name
Length
Weight (Kg)
Self Finish
Painted
Hot Dip Galv.
Ledger(Horizontal)
L=0.60Mt
2.38
2.45
2.52
Ledger(Horizontal)
L=0.90Mt
3.44
3.55
3.65
Ledger(Horizontal)
L=1.00Mt
3.80
3.91
4.03
Ledger(Horizontal)
L=1.20Mt
4.51
4.65
4.78
Ledger(Horizontal)
L=1.30Mt
4.87
5.01
5.16
Ledger(Horizontal)
L=1.50Mt
5.58
5.75
5.91
Ledger(Horizontal)
L=1.80Mt
6.65
6.85
7.05
Ledger(Horizontal)
L=2.00Mt
7.36
7.58
7.80
Ledger(Horizontal)
L=2.50Mt
9.14
9.41
9.69
  Cuplock Intermediate Transom
Name
Length
Weight (Kg)
Self Finish
Painted
Hot Dip Galv.
Intermediate Transom
L=0.60Mt
3.59
3.70
3.80
Intermediate Transom
L=0.90Mt
4.66
4.80
4.93
Intermediate Transom
L=1.00Mt
5.01
5.16
5.31
Intermediate Transom
L=1.20Mt
5.72
5.90
6.07
Intermediate Transom
L=1.30Mt
6.08
6.26
6.44
Intermediate Transom
L=1.80Mt
7.86
8.09
8.33
Intermediate Transom
L=2.00Mt
8.57
8.83
9.08
Intermediate Transom
L=2.50Mt
10.35
10.66
10.97
Intermediate Transom
L=3.00Mt
12.13
12.49
12.86
  Cuplock Diagonal Brace
Name
Length
Weight (Kg)
Self Finish
Painted
Hot Dip Galv.
Intermediate Transom
L=0.60Mt
3.59
3.70
3.80
Diagonal Brace
L= 1.3Mt
5.22
5.37
5.53
Diagonal Brace
L= 1.8Mt
7.48
7.71
7.93
Diagonal Brace
L=2.5Mt
9.97
10.26
10.56
    Cuplock Spigot Connctor
Name
Length
Weight (Kg)
Self Finish
Painted
Hot Dip Galv.
Spigot Connctor
L=0.25Mt
0.69
0.71
0.73
  Cup-Lock scaffolding system is a multi-purpose system scaffold, suitable for access and
Formwork
support in all types of construction of building & civil engineering projects. This complete
Galvanized
system is probably the fastest and most-widely preferred scaffold system. The main feature of Cup-Lock is the unique node locking method which allows up to four horizontal members to be fastened to a vertical member in one action by a single hammer blow - without the use of nuts and bolts or wedges.
The locking node is formed by two cups, a fixed lower cup which is welded to the vertical member at every 500mm intervals and a sliding upper cup. First the forged blade ends of the horizontal member are connected loosely but safely to the lower cup.
The key strength of Cup-Lock scaffolding system is being extremely versatile. It is ideal for many applications as formwork support, or general access scaffold, staircase tower, mobile tower and table form. It has flexible erection as straight, curved or circular configuration for both access and support purposes.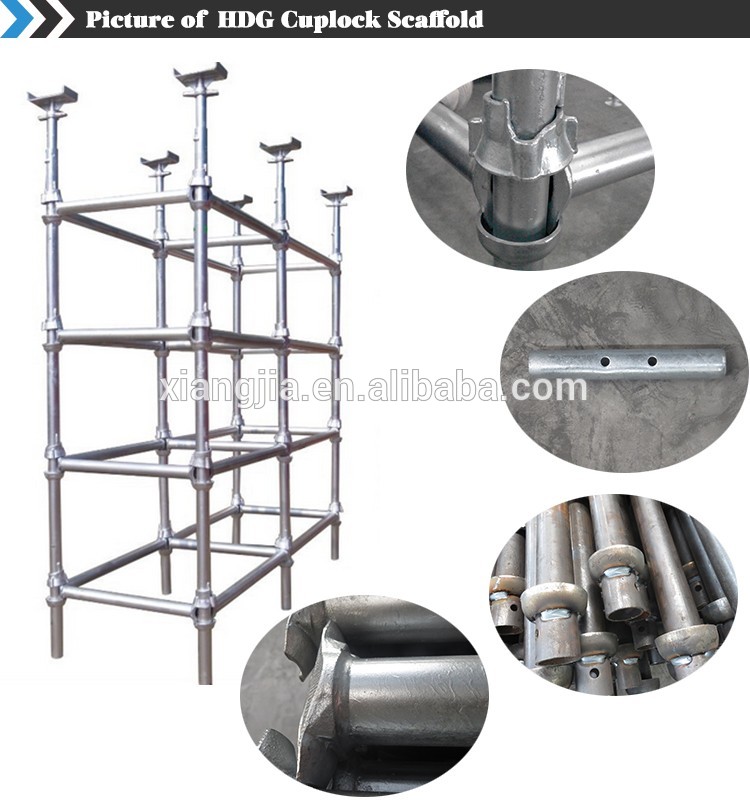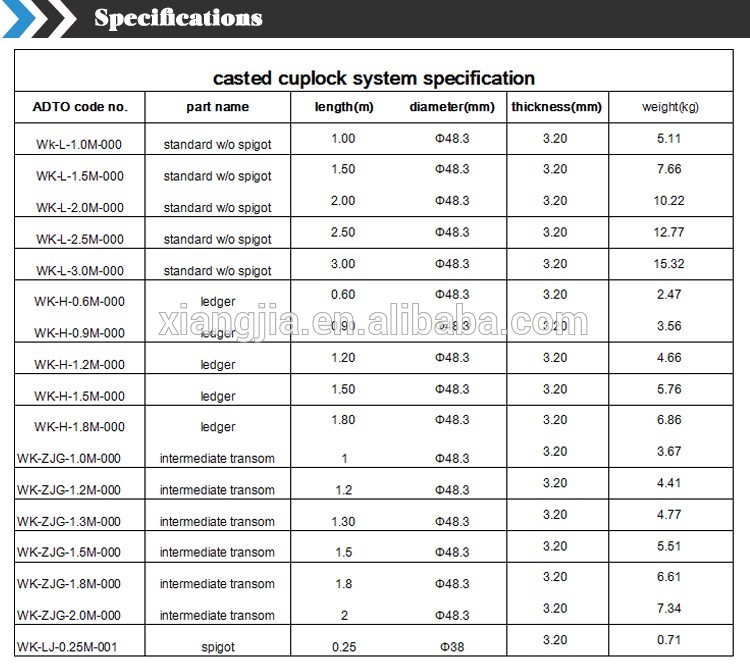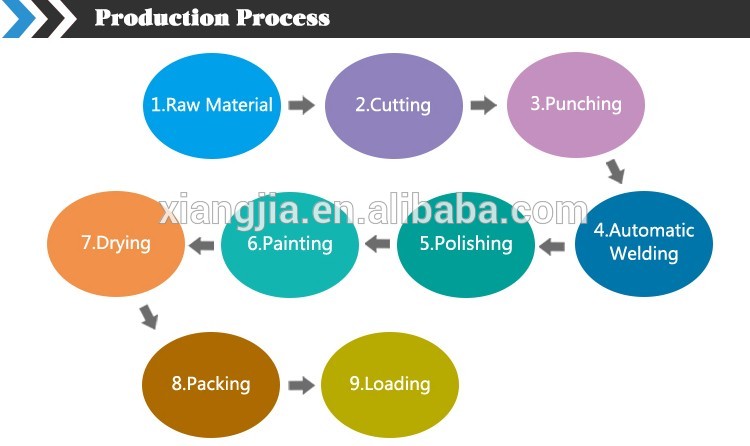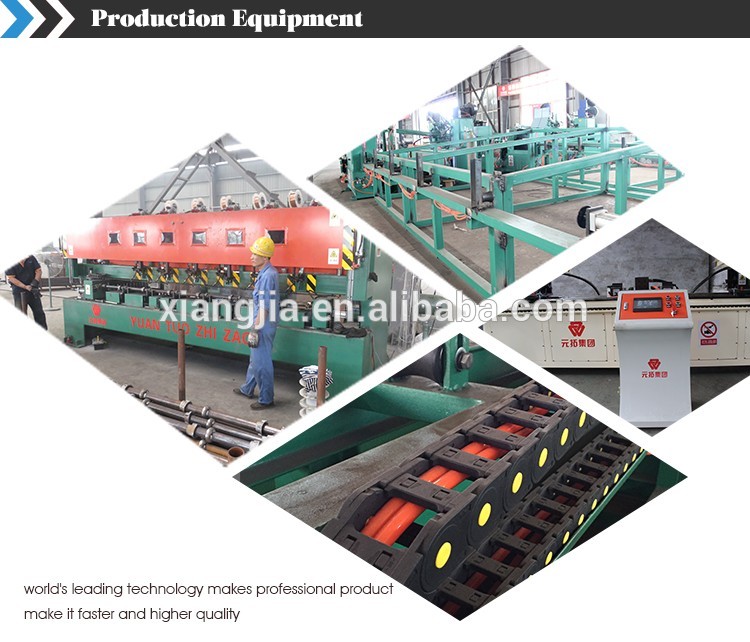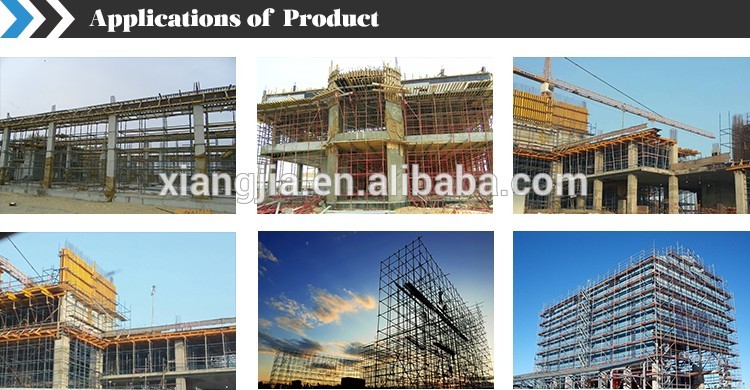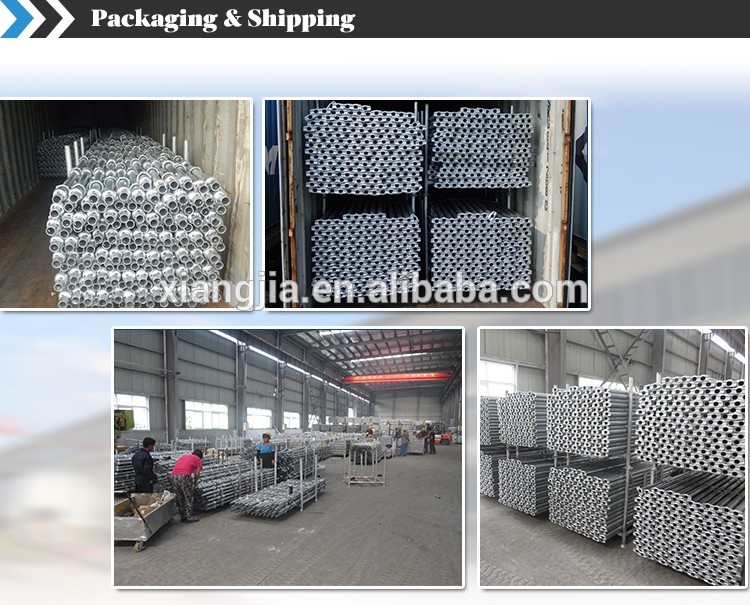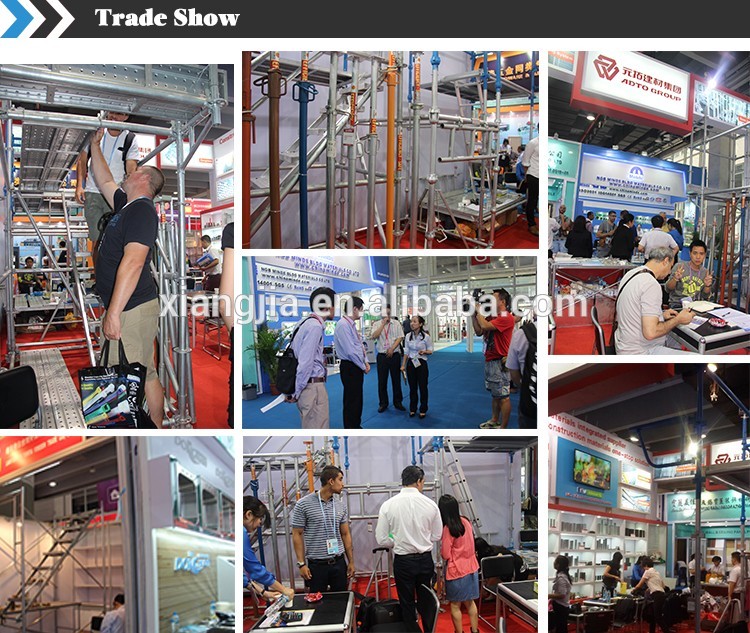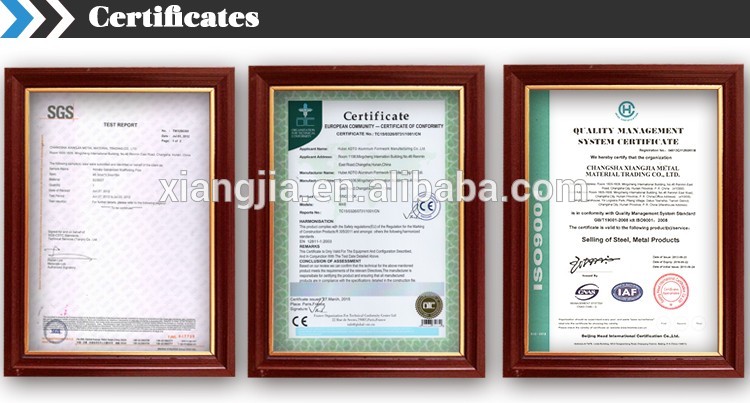 FAQ   Your questions: 1. Q: What's your MOQ(minimum order quantity)?    A: One full container. 2. Q: What's your packing methods?     A: Packed into bundle, and rest in bulk. 3. Q: What's your payment terms?     A: T/T 30% in advance & T/T 70% upon sending the copy of Bill of Lading, L/C 100%, or negotiate according to the order status.  4. Q: What's your delivery time?     A: 10-20 days after received the advance payment or L/C. 5. Q: Are you manufacturer or trader?     A: We are the munafacturer of SCAFFOLDINGS MATERIALS for decade years. Our group company has 8 subsidiaries and 4 factories, coveraged every scaffolding systems.  6. Q: Where's your factory?   A: Our factory is in Tianjin city (near Beijing) and Jiayu city, Hubei Province, afforded enough production ability and earlier delivery time. 7. Q: Can we visit your factory?  A: Warmly welcome. Once we have your schedule, we will arrange the professional sales team to follow up your case. 8. Q: Can you supply other scaffolding materials?     A: Yes. All related scaffolding materials.         (1) scaffolding system (cup-lock system, ring lock system, frame, pipe&coupler system)         (2) scaffolding pipes (1.5'-2.0')x(0.3-12m), hop dipped galvanized/ black. BS1139, STK500         (3) steel pipes (ERW BS1387, SSAW PIPE, Sqaure/ Rectangular tube GB/T6728)         (4) steel coupler (preesed / drop forged coupler)         (5) steel plank with hooks or without hooks        (6) steel staircases         (7) screw adjustable base jack         (8) Adjustable props 
Product Categories : Cuplock Scaffolding System